Buenos Aires the Capital of Argentina
Buenos Aires is the vibrant capital of Argentina and its most cosmopolitan city. It is a city of contrasts, boasting high-end dining, shopping and culture as well as colorful and unique neighborhoods. Visitors will find plenty of attractions to explore, from its iconic neighborhoods of San Telmo and La Boca to the exquisite architecture in the city center. With its varied nightlife, tango shows, and its famous steak restaurants, Buenos Aires is a city not to be missed.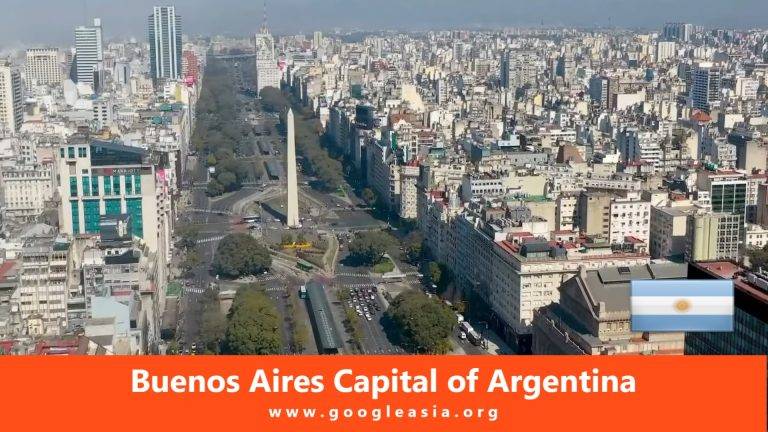 Buenos Aires the Capital of Argentina Summary
Attraction: Buenos Aires
Continent: South America
Capital Name: Buenos Aires
Language: Spanish
Currency: Argentine Peso
Nationality: Argentinian
Buenos Aires Argentina is a destination rich in culture, art, history, and beauty. For tourists, the country offers a wide range of attractions, from the bustling city center, to colonial buildings, interesting museums, and vibrant nightlife. Visitors traveling to the city will find plenty to see and do, from exploring local neighborhoods and eating delicious Argentine steak to dancing the tango and browsing eclectic stores. There is something for everyone here, making Buenos Aires Argentina a great place for a vacation.
Tell Us About Buenos Aires Argentina
Buenos Aires is the capital of Argentina and is one of the largest cities in South America. It is a vibrant city with a mix of cultures and influences, such as Italian and Spanish. Buenos Aires is often referred to as the "Paris of South America," as it is well-known for its architecture, cuisine, and lively nightlife. The city has much to see and do, from exploring its many museums, galleries, and attractions to taking in a tango show or two. There are also plenty of outdoor activities, such as visiting iconic parks like Palermo, or exploring the city's many outdoor markets.
What are the Things to do in Buenos Aires Argentina?
Things to do in Buenos Aires Argentina are:
Enjoy the tango. Argentina is synonymous with tango, and what better city to experience it than in Buenos Aires! Enjoy night out of tango clubs, shows, or for the serious dancer, sign up for a couple's workshop.
Explore the Plazas and Parks. Buenos Aires has several squares, plazas, and parks where the locals come to socialize, relax and recreate. Take in a puppet show in the Plaza San Martin, hangout in Palermo's evocative sculpture-studded Plaza Italia, or catch some stellar views of the city skyline while walking around Plaza Intendente Alvear.
Visit La Recoleta Cemetery. The city's famous cemetery is a historical and cultural side of Buenos Aires' past. Stroll through the tombs of the city's affluent and politicians, catch a glimpse of the city's elite family crypts, marvel at the architecture, and even explore a few of the catacombs.
Browse the galleries and museums. Buenos Aires is home to some of the world's best galleries and museums that feature local pillars of the art world and renowned international artists. Visit the Museo de Arte Latinoamericano for some of the best modern artwork in the city or the Museo Nacional de Bellas Artes for a glimpse of some of the dinosaurs and skeletons on display.
Feast in San Telmo Marketplace. No trip to Buenos Aires is complete without a visit to the bustling San Telmo Marketplace. Enjoy live music, street performers, and some of the best market-food in Latin America. From authentic empanadas to handmade alfajor cookies and steaming crepes, San Telmo is a must-see experience in Buenos Aires.
Attend a football match. Attend a football match at La Bombonera and feel the contagious buzz and unbridled passion of the crowd. Boca Juniors may be one of Argentina's favourite teams, but the River Plate stadium is still a must-see stadium with its breathtaking view of the city.
Take a day trip. Buenos Aires has several day trips around the city. Visit San Antonio de Areco for a colonial style ranch, or Valle de Uco for some of the most stunning vineyards and wines in Argentina. For a taste of the pampas, book an Estancia day trip.
What are the Best Foods at Buenos Aires Argentina?
Buenos Aires has a unique, distinctive cuisine that showcases the Argentinian culture and its influence from Europe, the Mediterranean, and Latin America. From typical Argentinian dishes including empanadas, chivito, and churrasco, to the wide selection of international fare and delectable desserts, there is something for everyone in Argentina's vibrant capital city.
When visiting Buenos Aires, one must try the classic Argentinian steak (asado). The city boasts a variety of restaurants that specialize in grilled steak, but few do it better than Don Julio in Palermo. This restaurant serves their steaks straight from the grill and accompanied by a selection of chimichurri and various sauces.
The city is also known for its excellent sandwiches. Atlantida is a popular parilla, where the sandwiches are filled with grilled meats and vegetables. The Mollejas a la Plancha, which have grilled chicken gizzards, are particularly delicious. Traditionally made with tart, acidic salsas, they are often served with fries or mashed potatoes as well.
For hearty, traditional meals, try Humita en Chala, a combination of corn and cheese that is steamed in a large corn husk—a traditional regional recipe. Or enjoy the flavorful spicy broth of locro, a stew that typically requires beef, chicken, pork, vegetables, and corn.
dessert lovers should not miss out on dulce de leche. This traditional confection is a thick caramelly spread made of cooked milk and sugar, served on just about everything. Alfajores are small, sandwich-style cookies made up of two wafers with a layer of dulce de leche in the middle.
Finally, Buenos Aires is a mecca for wine lovers, who flock to bars like Bares de España. Here, one can enjoy Argentinian wines paired with cheese, olives, and chorizo. No matter your preferences, Buenos Aires has something for you. Whether you're in search of traditional Argentinian meals, international favorites, or something sweet, the city has something to tantalize your taste buds.
What are the Best Hotels to Stay in Buenos Aires Argentina?
The best hotels in Buenos Aires Argentina are:
Four Seasons Hotel
Faena Hotel
Alvear Palace Hotel
The InterContinental
Hotel Costa Galana
Recoleta Grand Hotel & Spa
NH Collection Lancaster
Sheraton Buenos Aires Hotel
Palacio Duhau – Park Hyatt
The Brick Hotel Buenos Aires Mgallery by Sofitel
What is the Next Tourist Destination?
Aconcagua is a must visit places to visit in Argentina. Scroll down and click the button for more information.